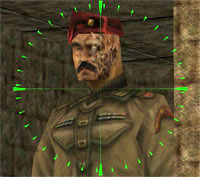 "And my man, General Amu. Here we go..."
-John Mullins
General Mohammed Amu was an Iraqi general who worked with Sergei Dekker and the Order.
He is a badly scarred man with a non-threatening voice. Amu purchased a nuclear warhead from the Order, but it was later recovered by John Mullins and Hawk.
Later on John Mullins is sent back to Iraq, because Amu had been selling low grade uranium to Dekker. General Amu is confronted by Saddam Hussein for dealing with the Order and later is killed by the Order before he can tell John Mullins any information.